-41%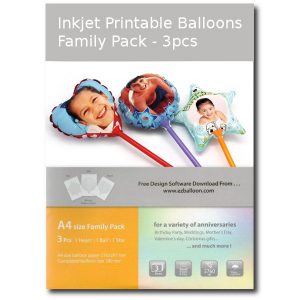 -41%
Benefits of Buying Balloons By Kids Pretend Toys
Companies of various kinds and sorts utilize balloons to strengthen their message or product from tiny company activities to multinational brands.
If you're searching for creative methods to bring your promotional campaign, product or event to your notice, balloons are a colourful and entertaining way to get your word out.
Cost-effective balloon Advertising
Balloons may be viewed as airborne banners from a distance, a fascinating attraction to lure visitors into your company.
When utilized as gifts, consumers are reminded of your product or service. They also function as unique business cards, with your name, logo or other information on the surface printed.
They are cost-effective to manufacture, and the more you buy with the same artwork at a time, the cheaper they are.
Promotion of Event
On-site large displays may be utilized to attract attention to the location. The display may show customized words or graphics complementing the event's topic or the product being advertised.
Balloons may also be utilized as Decorations.
Distribute each visitor with a marketing slogan, business name or event logo as mementos.
Balloons Capture Beware
Printable balloons as a medium is a unique method of getting consumers into your company and a fun approach to show your brand.
Think of a balloon display as a moving panel that can be put virtually anywhere strategically on your property.
Balloons tailored to your Requirements
Our in-house designers and graphic artists work with you to ensure you receive the product you want, whether you want particular colours, patterns or forms. Our staff can help you choose printable balloons of the right size and form for your campaign. You can print on one or two sides to display several messages, text, logos or artwork.
Balloons for the promotion of the brand
Show a white print logo on a black balloon. Print the motto on one side of your company and the logo on the other.
Balloons can also be product decorations. Your product can be shown as a creation that takes your sales message to the public.
Buy Balloons from Kids Pretend Toys with the easy payment method by AfterPay.